Ad Blocker Detected
Our website is made possible by displaying online advertisements to our visitors. Please consider supporting us by disabling your ad blocker.
A climbing and woody plant, the wisteria embellishes the gardens with its cascade of purple, pink or white flowers. Like other climbing plants such as clematis or jasmine, wisteria brings a bucolic atmosphere to the garden. If it is easy to grow, a few rules must be followed for successful planting.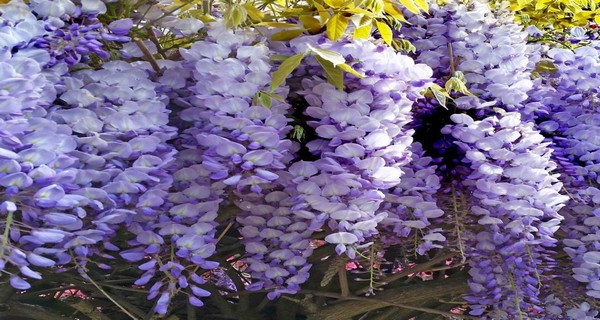 Summary
How to plant wisteria?
Care tips for wisteria
What exposure for glycine?
All varieties of wisteria
Associations compatible with glycine
Wisteria maintenance
Diseases and pests that threaten wisteria
How to plant wisteria?
Wisteria is a vigorous plant that tolerates cold temperatures perfectly. It is planted in autumn or spring in a mixture of garden soil, manure, and compost. It is nevertheless possible to plant it in summer, provided that watering is ensured, especially during periods of high heat.
Cutting wisteria is easy and is scheduled for late spring or early summer.
Take a non-flowering branch about 15 cm long with at least 2 nodes;
Remove the basal leaves and cut off the terminal leaf blade;
Dip the cutting in rooting hormone;
Push it into potting soil with regard to its height;
Cover the pot with a transparent plastic bag to create a warm and humid atmosphere;
Place the pot in a bright place, making sure that the substrate always remains moist;
Remove the plastic as soon as new shoots appear;
Repot the rooted cutting in a pot to develop there for a few weeks before placing it in the ground.
It is also possible to plant wisteria from seedlings collected from the pods, but the plant will take about ten years before flowering.
Care tips for wisteria
Pruning should be done once a year during the period of vegetative rest, avoiding periods of frost. Pruning should be done on new shoots of the year. Thus, the flowering will be concentrated at the level of the stems of the previous year.
Wisteria does not need fertilizer, at the risk of favoring foliage to the detriment of flowers. Remove faded flowers to avoid the formation of seeds that are toxic and to promote the appearance of new floral clusters.
Water the wisteria regularly when planting. For plants under three years old, maintain regular watering from May to September. Wisteria planted in containers should be watered daily. Older plants water twice a week in case of drought.
What exposure for glycine?
The wisteria likes the sun, a non-calcareous, rather dry, and loose soil. So place it in a sunny spot in the garden, sheltered from strong winds. Provide solid support to accommodate its vigorous and fast-growing vine. To flower well, the wisteria needs at least 6 hours of sun per day.
The wisteria is ideal for decorating a wall, an arbor, a pergola, or a garden path. However, it needs solid support to sustain it. You can also limit its progression and make it a small stem tree by growing it along vertical support and pruning it during the first few years.
All varieties of wisteria
Sunflower Seeds for Planting 50 Pcs Seeds Rare Exotic Purple Garden Seeds Sunflowers
Japanese wisteria or Wisteria floribunda: blooms from April to May, and is characterized by elongated but less dense floral clusters. The flowers are also less fragrant than Chinese wisteria. On the other hand, the Japanese wisteria is very hardy and easily reaches 15 meters in height.
Chinese wisteria or Wisteria Sinensis: blooms from April to May, and is appreciated for its fragrant floral clusters. The long clusters reach up to 30 cm.
Japanese wisteria 'Domino' or Wisteria floribunda 'Domino': blooms in May and is characterized by its small, fragrant, and numerous flowers. It adapts perfectly to pot culture.
Kentucky wisteria or Wisteria macrostachya: blooms from June to July, its flowers are odorless. Its clusters can reach 30 cm in length.
Associations compatible with glycine
Whichever variety you choose, wisteria is an asset to the garden with its spectacular spring blooms. In addition, wisteria is easy to grow, hardy, and has a long lifespan. For a small garden, opt for a compact variety like American wisteria, Wisteria frutescens 'Amethyst Falls. It typically reaches 5 meters in length and emits dense, stubby clusters. You can combine wisteria with other climbers such as clematis or a rosebush.
If you are looking to cover a fairly large space in your garden, opt for 'Alba' Chinese wisteria, which generally exceeds 10 meters in height when mature.
Wisteria maintenance
You can go to the next page to read the rest of this article…