Cajun beans and rice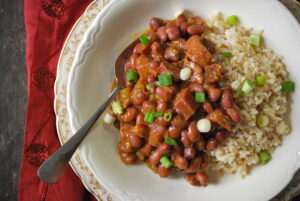 Serves 4
Ingredients
1 ½ cups pinto beans
2 tbsp paprika
2 cups water
8 oz tomato sauce
1 bay leaf
2 cloves garlic, minced
1 green pepper, chopped
½ tsp Tabasco sauce
1 large onion, chopped
1 tbsp chili powder
¼ tsp cayenne pepper
¼ lb smoked
1 celery stalk, minced
sausage, sliced
Preparation and method
Soak the beans overnight. Drain. Place in a large Dutch oven, add the water and bay leaf and bring to a boil. Lower the heat and simmer for 1 hour. Add remaining ingredients, except for the sausage, and simmer until the beans are tender for about 1 hour. You may need to add more water as the beans cook. Add the sausage and simmer for fifteen minutes more. Serve over boiled rice.
Boiled rice can be made quickly and is loaded with carbohydrates.
Just remember to use twice the amount of water as of rice.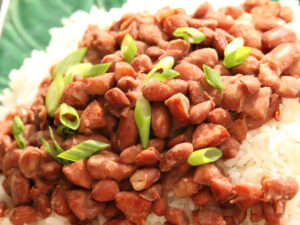 Enjoy your meal!