Ad Blocker Detected
Our website is made possible by displaying online advertisements to our visitors. Please consider supporting us by disabling your ad blocker.
Never heard of them? You definitely need these autumn perennials in your garden.
Aster flowers enliven the garden in late summer and early fall when many blooms are fading. These native perennials are an essential late-season nectar source for our pollinators, too! Here's how to grow asters in your garden.
About Asters
The aster is an upright flowering plant that grows 1 to 6 feet tall and its star-shaped flower heads range from purple to white to blue. This perennial is best planted in spring or fall.
The aster plant is versatile: Depending on the height, it's suitable for borders, rock gardens, or wildflower gardens. As well as being a valuable pollinator plant for bees and butterflies, its tasty seed heads are sought by cardinals, chickadees, finches, nuthatches, and many other seed eaters.
Even though there are more than 600 aster species, the two most commonly encountered asters in the home gardening world are the New England aster (Symphyotrichum novae-angliae) and the New York aster (S. novi-belgii). Several years ago, the Aster genus was split into multiple genera. Aster now covers most European and Asian asters, while those native to North America now belong to Symphyotrichum.
A number of hybrid varieties are available in showy colors, yet "wild type" species native to your region is generally a wise choice for the ecologically-minded gardener, despite them not being quite as flashy as the cultivated varieties in some cases. (You may find aster listed with the species name Aster or Symphyotrichum).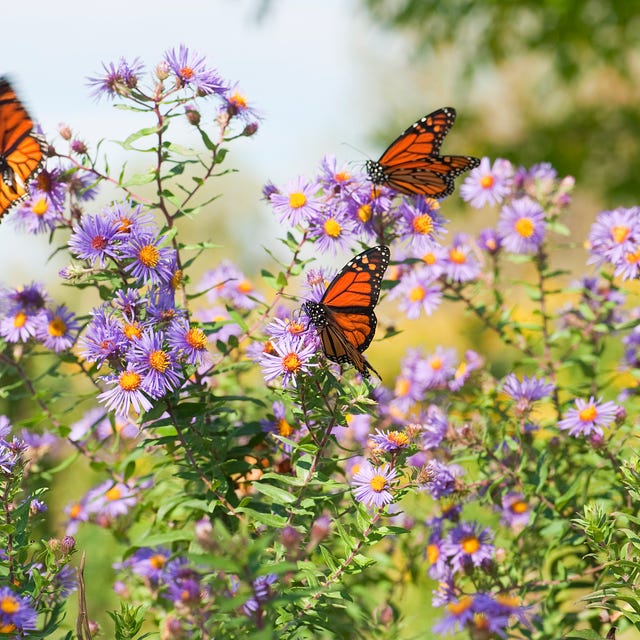 DebraLee Wiseberg//Getty Images
When you think of pretty autumn plants, mums automatically come to mind. But there's another fall-blooming perennial that your garden needs. Asters, a hardy plant that comes in shades of blue, lavender, pink, and purple, start blooming around the same time as mums when everything else in the garden is looking a little tired and shaggy. "They're a beautiful alternative or companion to mums," says Jan Boonstra Pavlinak, horticulturalists and help desk expert with Bluestone Perennials. "They're pretty easygoing flowers, pollinators love them, and their colors are complementary to many other fall-blooming plants."
Here's how to grow these eye-catching but lesser-known fall flowers:
What kinds of asters should you plant?
Asters can be planted in USDA Hardiness Zones 3 to 8. They come in a variety of heights, ranging from 12 inches to 4 feet, so they work either in the back or front of borders depending on size. They may be tall and stately, or some varieties have a more mounded shape. Asters need full sun, which is at least six hours of direct sunlight per day. With too much shade, they get leggy and floppy. Asters usually bloom for weeks from early to late fall.
Varieties to try:
Bluebird (beautiful blue tall variety)
October Skies (very late bloomer)
Alma Potschke (bright, red-pink fringed flowers)
Where can I buy aster?
Many nurseries sell them in the fall, though your choice of varieties may be limited. If you want to plant asters in spring, online retailers have a wider selection. Spring planting also ensures they'll get established in the ground in time to survive the winter, though they're not too fussy and will often return next year even if you don't plant them until early fall.
When should I plant asters?
You can go to the next page to read the rest of this article