Ad Blocker Detected
Our website is made possible by displaying online advertisements to our visitors. Please consider supporting us by disabling your ad blocker.
Common bleeding hearts (Dicentra Formosa, 

Lamprocapnos spectabilis)

 are lovely little herbaceous perennial plants. Today I'll share a few bleeding heart plant care secrets, so you can grow and enjoy these adorable heart-shaped flowers.
 We will shed light on one of the most beautiful bleeding heart flowers namely, the heart of Mary Flower.

A perennial plant reminiscent of romantic gardens, the heart of Mary ( Dicentra spectabilis ) reveals in the cool massifs or at the foot of a wall in the shade its adorable little pink or white hearts so graceful in spring.
The heart of Mary is a sumptuous perennial with elegant and colorful flowers.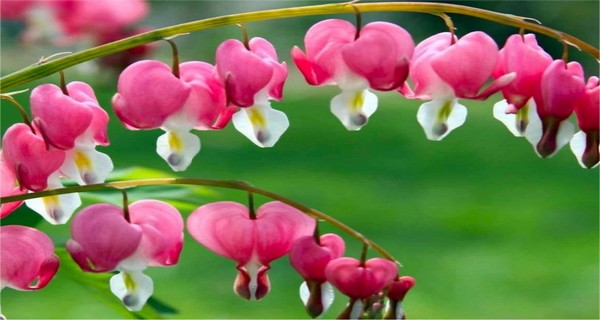 In summary, what you need to know:Name  : Dicentra spectabilis
Family: Papaveraceae
Type: Perennial
Height  : 20 to 60 cm
Exposure: Partial shade
Soil: Ordinary, well-drained

Flowering: May to August

Maintenance, from planting to flowering is relatively easy and the decorative effect quite exceptional.
Plantation of the Heart of Mary
Planting period:
The heart of Mary is planted in the spring or in the fall for the subjects purchased in buckets.
Nevertheless, prefer planting in the fall to encourage rooting before winter. If you plant in the spring, avoid periods of frost.
Planting technique:
Once properly installed, Mary's heart requires relatively little care. Successful planting is therefore important.
Marie's heart thrives in partial shade and is sheltered from cool winds
Respect a spacing of 40 cm between each foot
Prefer a rich soil like compost and well drained
Keep the soil cool with mulch, especially during the summer, this is guarantee prolonged flowering
Water regularly in the following spring and summer the first year after planting
You can easily multiply your heart of Marie by dividing the clump in the fall.
Maintenance of the Heart of Mary
You can go to the next page to read the rest of this article