Ad Blocker Detected
Our website is made possible by displaying online advertisements to our visitors. Please consider supporting us by disabling your ad blocker.
Are you seeking a straightforward oven-based method to transform the fresh tomatoes flourishing in your garden this summer into sun-dried delights?
There's something almost magical about plucking ripe tomatoes from your garden and converting them into sun-dried gems. Preserving the vibrant taste of summer to enjoy year-round is truly something special.
The great news is, when it comes to preserving tomatoes, crafting delectable sun-dried tomatoes in your oven is about as easy as it gets. Once dried, the tomatoes' naturally sweet flavor reaches new heights. Imagine the versatility it can bring to your dishes, appetizers, and more!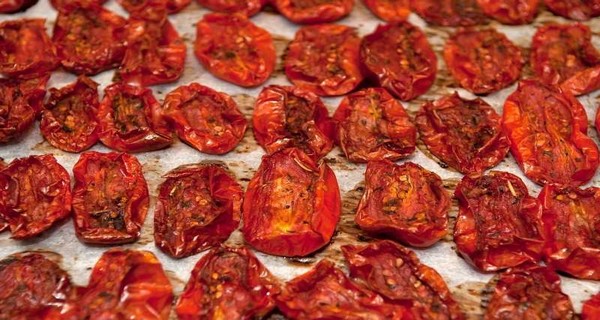 How To Make Sun-Dried Tomatoes In The Oven
Choosing the Best Tomatoes
Above all else, the initial step in the dehydration process is to carefully select the finest tomatoes. It's crucial to opt for tomatoes that are firm, fully ripe, and possess robust flesh. Meaty tomatoes, known for their thickness and rich flavor, also tend to have fewer seeds.
Varieties such as San Marzano, Roma, Grape, and cherry tomatoes exemplify excellent choices for crafting sun-dried tomatoes. They all share the qualities of meatiness and sweetness and typically yield an abundance of fruit throughout the summer season.
These attributes play a vital role in achieving superior sun-dried quality when using the oven. Additionally, due to their smaller size, cherry and grape tomatoes boast the added advantage of requiring slightly less time in the oven.
Preparing The Tomatoes – How to Make Sun-Dried Tomatoes in the Oven
After selecting your preferred variety, it's time to prepare them. Give the tomatoes a gentle rinse to remove any dirt or debris. Then, using a clean kitchen towel or paper towel, delicately pat them dry.
Following that, halve the tomatoes. For small cherry or grape tomatoes, this is adequate for oven drying. If working with slightly larger varieties, cut them into smaller yet uniform pieces. Quartering or even cutting into eighths typically results in the ideal size for dehydration.
Removing Excess Moisture and Seeds – How to Make Sun-Dried Tomatoes in the Oven
The subsequent crucial step is to extract the seeds from the tomato slices prior to drying. The gel-like membranes surrounding the seeds retain a significant amount of moisture, which can substantially prolong the oven-drying process.
Using a small spoon or your fingertip, carefully scoop out the seeds and remove the core, taking care not to damage the flesh.
To further draw out excess moisture, lightly sprinkle the tomatoes with salt. Allow the salted slices to rest for approximately 30-40 minutes. After this period, blot them dry with a paper towel. This technique not only enhances the flavor of your sun-dried tomatoes but also facilitates a smoother and faster drying process.
Preheating The Oven – How to Make Sun-Dried Tomatoes in the Oven
Now, let's get the oven ready! Preheat it to 225°F (107°C) – this "low and slow" temperature is ideal for oven-drying tomatoes. While it may take a bit longer to fully dry them out, this method is what imparts exceptional flavor to your tomatoes!
The low heat preserves the tomatoes' vibrant colors and flavors, facilitating a gradual and thorough drying process.
Adding Additional Flavor
As we're aware, tomatoes are inherently bursting with flavor, often making them superb on their own. Given this, when contemplating the addition of extra ingredients, it's crucial to maintain simplicity.
One option is to incorporate olive oil. Once the tomatoes are arranged cut side up on the parchment-lined baking sheet, drizzle a small amount of high-quality olive oil. This modest inclusion can deliver a substantial boost in flavor, elevating the dish gracefully.
Another possibility is the introduction of Italian seasoning. The aromatic blend of basil, thyme, and oregano harmonizes seamlessly with traditional Italian tastes. Once again, exercise restraint in adding too many supplementary elements. With the dynamic flavor of the tomato, simplicity reigns supreme.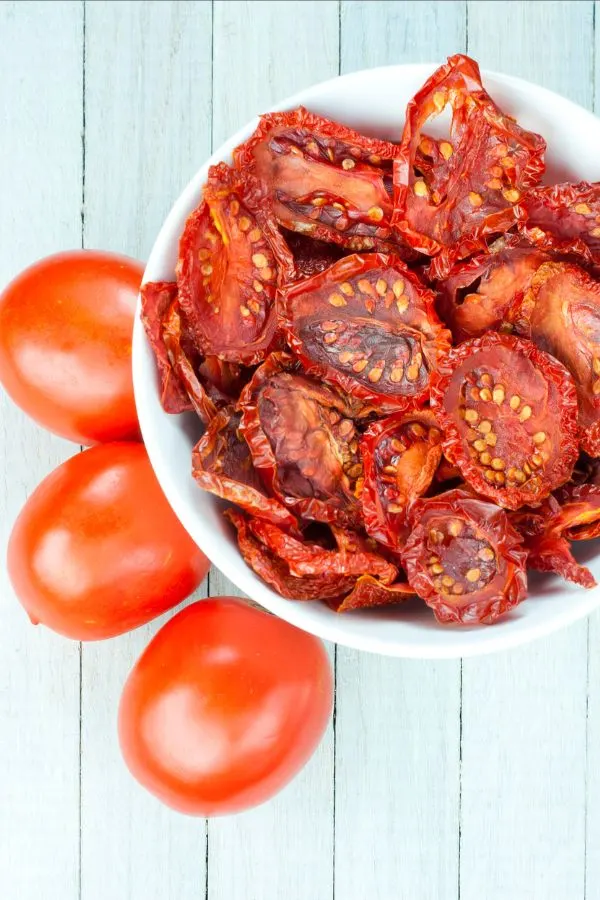 The Drying Process
With your prepared tomatoes and preheated oven, it's time to commence the drying process. Begin by lining a rimmed baking sheet with parchment paper, ensuring none of the tomatoes overlap. It's crucial to maintain a single, even layer.
Additionally, leaving a bit of space between each slice will guarantee a uniform drying process for all the tomatoes. Typically, the tomatoes will require 3-4 hours in the oven to dry. However, this timing may be affected by your oven's temperature and the thickness of the tomato slices.
As these factors can vary, begin checking your tomatoes around the 2.5-hour mark. If you still notice pockets of moisture, continue to leave them in the oven and monitor regularly from outside. Utilizing the oven light can help assess readiness without letting out too much heat. When finished, the tomatoes should appear shriveled, leathery, and thoroughly dried.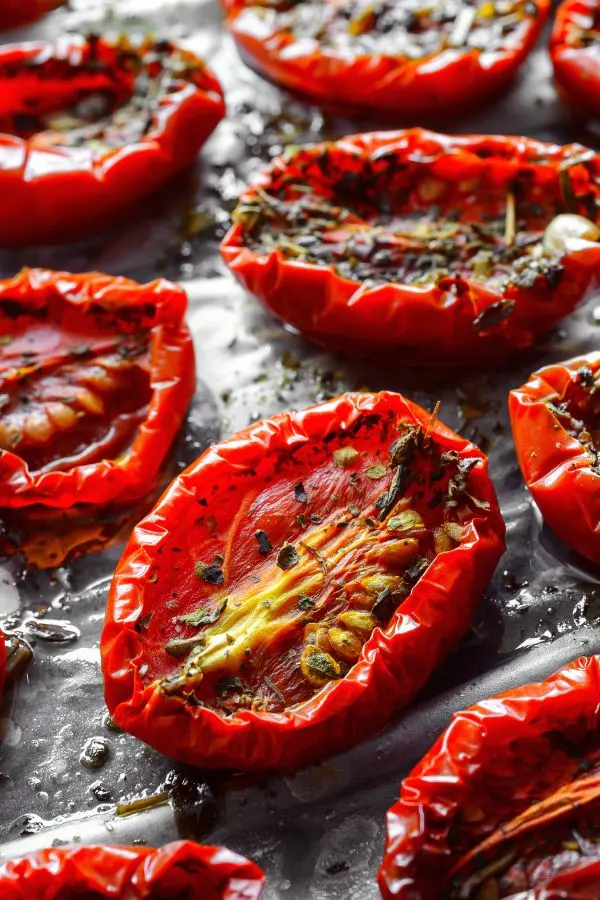 Cool and Store – How to Make Sun-Dried Tomatoes in the Oven
You can go to the next page to read the rest of this article